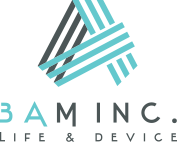 "3AM Inc. values patient care and provides the best solutions to our customer"
3AM Inc. is a newly started company with a vision: we value patient life value and provide a great product to support our customer with appropriate   solutions. We have been endeavored our vision from the beginning. 3AM Inc. have built professional and talented teams not only who can share our vision, but also are capable of growing with a company.
We, 3AM Inc., can provide the best solutions to our customer with our support. We committed to providing quality technology and excellence through our device. We are dedicated to our customer to hear voice of customer and make customer support priority.
Our company will continue to pioneer innovative device by conducting the research and development to thrive from a domestic and international market based on our vision. As medical device is innovated, 3AM Inc. is dedicated to challenge which can bring sincere value to our customers.
3AM Inc. continuously put our very efforts to support you. We are looking forward to building our long-term business relations with you in the future.
Best regards,
CEO, 3AM Inc.